Is purina one smartblend a good dog food? If you are a pet owner you have always this question on your mind.
Purina One SmartBlend provides many benefits to consumers, particularly pet owners who want to ensure their pets are healthy and happy. But what about the dog food itself? Does it offer enough nutritional value to justify its price point? What are some possible cons associated with Purina One SmartBlend?
Here you can find an in-depth analysis of Purina One SmartblendIn the review that follows, you'll discover all the information you need to make an informed decision about purchasing Purina One Smartblend dog food for your pet.
Let's start! Without wasting your time
Introducing the Purina One Smartblend Blend
Purina One Smartblend is a dog food made by Nestle Purina Petcare. It is marketed as a complete and balanced diet for adult dogs of all breeds. While it has many good points, it also has some drawbacks. This post will review the product's good points and bad points to give you a better idea of what you may want to feed your dog. Purina One SmartBlend Ingredients
The "smart" ingredients in Purina One Smartblend are claimed to work synergistically to provide your dog with all the nourishment he needs. This line of pet food is similar to others in the Purina One family.
Although they do offer a puppy line, the majority of the recipes in this premium dog food are formulated for use with adult dogs. In addition, there is an "all life stages" selection that works for both senior dogs and young pups.
The AAFCO does not provide any sort of formal designation for "senior dog food." However, Purina One Smartblend does provide several age-specific formulations. They also provide large-breed dog-specific recipes and other comparable specialist recipes.
You can find this food at most pet retailers, though not every location will have every flavor.
This manufacturer creates around 12 unique dry dog feeds and 16 unique wet dog foods. Depending on what was utilize, some of these are quite good, while others are on the lower end of the quality range.
Some of their most widely used formulas are as follows:
Purina ONE SmartBlend Chicken & Rice Adult Formula

Purina ONE SmartBlend Lamb & Rice Adult Formula
Purina ONE SmartBlend Large Breed Puppy Formula

Purina ONE SmartBlend Vibrant Maturity 7+ Adult Formula
Purina ONE SmartBlend Healthy Weight High Protein Formula

Purina ONE SmartBlend Small Bites
Purina ONE SmartBlend Tender Cuts in Gravy Lamb & Brown Rice Entree

Purina ONE SmartBlend Large Breed Adult Formula
Purina ONE SmartBlend Sensitive Systems Adult Formula

Purina ONE SmartBlend Healthy Puppy Formula
This product contains real meat as its main ingredient, which means it offers more protein than most other dry foods on the market. It also includes omega-6 fatty acids from flaxseed oil and antioxidants from blueberries. Some people like that this dog food does not contain any artificial colors or preservatives that might be harmful to their pets in large amounts.
Ingredients
Purina One Smartblend is a high-quality dog food that has over 30 different ingredients. Here are some of the main ones:
– Protein sources in this dog food include chicken by-product meal, whole grain wheat, corn gluten meal, and soybean meal. These provide essential amino acids for healthy dogs. – Whole grains like corn and wheat provide energy to your pup. – Soybean oil provides omega-3 fatty acids which are important for healthy skin and a shiny coat. Other good oils found in this dog food are canola and flaxseed. Vitamins such as vitamins A and E provide antioxidants to keep your pet's immune system strong. There are also add minerals such as zinc and copper which help maintain a healthy metabolism.
Analyzing Labels and Recipes
Here you may learn more about the specific ingredients and nutritional value of this food.
Protein from Lamb, Glucosamine from Chicken By-Product Meal, Glucosamine from Corn Gluten Meal, Glucosamine from Soybean Meal, Rice Flour, Corn, Wheat, Chicken By-Product Meal, Corn Gluten Meal, Soybean Meal, Mono and Dicalcium Phosphate, Glycerin, Calcium Carbonate, Liver Flavor, Salt, Caramel Color, Soybean Oil, Potassium Chlor Minerals [Zinc Sulfate, Ferrous Sulfate, Manganese Sulfate, Biotin (Vitamin B-7), Vitamin D-3 Supplement], Vitamins [Vitamin E Supplement, Niacin (Vitamin B-3), Vitamin A Supplement, Calcium Pantothenate (Vitamin B-5), Thiamine Mononitrate (Vitamin B-1), Vitamin B-12 Supplement, Riboflavin Supplement (Vitamin B-2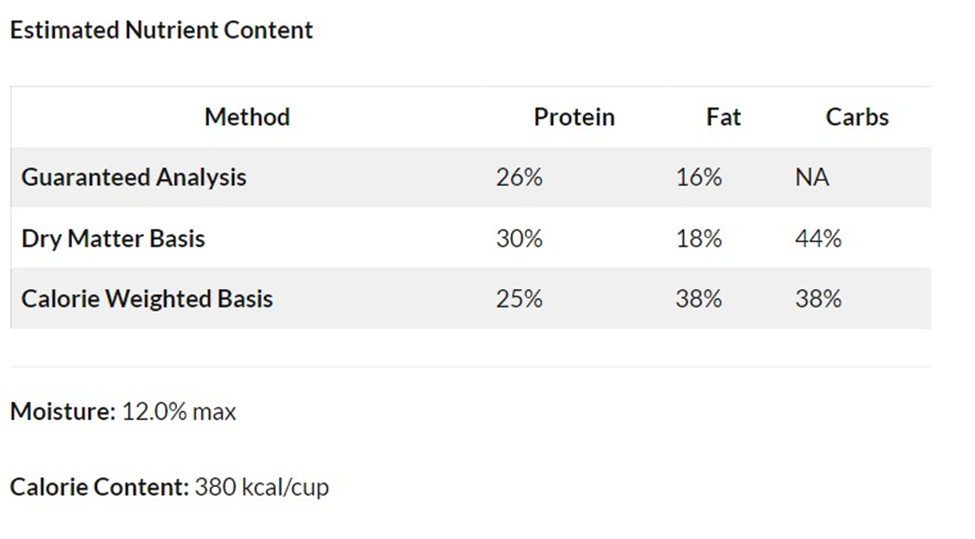 Nutrients
There are a lot of great ingredients in this dog food. This includes things like chicken and fish meal protein. It also contains essential vitamins and minerals that your pup needs to be healthy. However, some ingredients may not be very good for your dog's health. These include corn syrup and artificial flavors. There is also animal fat preserve with BHA, which is a potential carcinogen. Overall, there are plenty of good nutrients in this food and it will do wonders for your dog's diet. You can make an educated decision about whether or not to feed something to your dog if you understand what to search for. Other things to consider when buying this product.
Pros
It has a good nutrient analysis.
It is available in many different flavors.
It is affordable for most people.
Cons
It does not contain grain-free options.
Bottom line – if you're looking for food with ingredients that are source from higher quality sources, this food may not be the best choice for your dog. However, if you're looking for affordable food with many flavors to choose from this might be the perfect option.
Conclusion
One of the greatest dog foods on the market is Purina ONE SMART BLEND Large Breed Adult Formula. While it is promoted as a premium dog feed, its components aren't anything special compared to other brands found in pet stores. However, it's not a poor meal. Not fantastic, but not terrible either. Because of Purina's expertise in pet nutrition, you can feel confident feeding this to your dog. Premium dog foods are available and contain higher-quality ingredients, but they also cost more. Due to the soybean component and probable issues with phytoestrogens, this diet is not recommended for experience dog breeders. As this is a significant problem following the formula shift of the past year, it may receive more consideration in the future.
Read More: